MagDolly Lite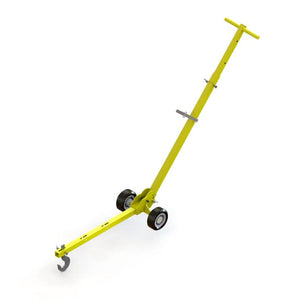 When it comes to moving heavy sheets, plates, and manhole covers, the Magswitch MagDolly Lite is the answer.
FEATURES & BENEFITS
Quicker, safer, more ergonomic solution for lifting large ferrous objects.
Adjustable handle, hook slots and new cable support system.
6-inch solid wheels offer durable maneuverability.
Collapsible for easier transport.
Eliminates the need to touch sharp, dirty or hot materials.
Pulls parts of the burn table while standing on the side.
Excellent on manhole covers and valve boxes with paired with our MLAY lifters (MLAY1000 or MLAY600x2)
Eliminates need for bending over and back injuries.
SPECIFICATIONS
Overall Height (Min Angle, Fully Extended): 58.2 in / 1479.0 mm
Overall Length (Min Angle, Fully Extended): 34.4 in / 874.0 mm
Overall Height (Max Angle, Fully Extended): 43.4 in / 1103.0 mm
Overall Length (Max Angle, Fully Extended): 68.9 in / 1751.0 mm
Overall Width: 13.8 in / 350.2 mm
Net Weight: 27 lbs / 12 kg
Wheel Size 6 in 152 mm
Made in USA
Downloads
MagDolly Lite Downloads:
Magswitch Downloads: