Cordless Electric (CE) 1100 Magnetic Lifter - 8140977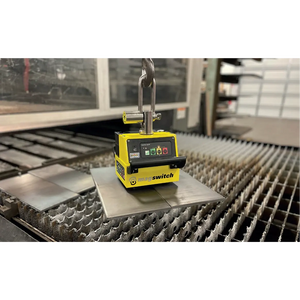 Magswitch's heavy-lifting Cordless Electric (CE) Magnetic Lifters are the new generation of SPM battery magnets.
Lifting Device Features
Perfect for maneuvering larger cutouts from the burn table, as well as small sheets.
Capable of being used as a positioning/holding tool, for grinding or fixturing small pieces together.
Automatic on/off actuation when landing and placing the workpiece in AUTO mode.
3:1 safety factor.
Fails safe – no power required once actuated.
800 operation cycles before recharging 2h by the power supply of 110V / 230V.
Variable Flux Output (VFO) for de-stacking (1/4in min)
On tool button or by wireless remote control
Coming in 2023 – replaceable and part specific Pole shoes
IMPORTANT note ASME B30.20 standards take precedence over all data provided. We strongly advise operators to be familiar with this standard prior to using any underhook lifter.
Specifications
Maximum Breakaway Force 1,2: 3300lb / 1500 kg
Breakaway Force (@ SWL 3:1): 1100lb / 500kg
Minimum Thickness for De-Stacking3 – VFO capable: Level 1: 1/4in / 6mm, Level 2: 5/16in / 8mm, Level 3: 13/32in / 10mm
Charging Supply Voltage: 110V/230V
Charging Time: 2 hours
Number of Cycles per Charge: 800
Net Weight: 55lb / 25kg
Mounting Option: Single Hoist Ring
Hold Surface (L x W): 5.7in x 5in
Dimensions (L x W x H): 7in x 6.3in x 5.5in
Determined in a laboratory environment on SAE1018 Steel with a surface roughness of 63 micro inches with optimized pole shoes. Many factors contribute to the actual breakaway force and safe working load in each application. Consult a Magswitch Applications Engineer and test the Magswitch in each application before deployment.
All data applies to units with standard combination V/flat pole shoes installed.
Determined with SAE1018 Steel L=200mm W=200mm.
Maximum forces listed above are not safe lifting forces. Designer must take into account safety factors when specifying tools. Magswitch recommends SWL = 3:1 for most lifting applications.
| CE1100 | Air gap <0.1mm | Air gap 0.1 to 0.3mm | Air gap 0.3 to 0.5mm |
| --- | --- | --- | --- |
| Material Thickness mm [in] | Maximum Load (kg) [lbs] | Maximum Load (kg) [lbs] | Maximum Load (kg) [lbs] |
| 4 [0.157] | 55 [121] | 50 [110] | 50 [110] |
| 6 [0.236] | 105 [231] | 100 [220] | 90 [198] |
| 10 [0.393] | 235 [518] | 225 [496] | 205 [451] |
| 16 [0.629] | 375 [826] | 360 [793] | 330 [727] |
| 20 [0.787] | 415 [914] | 395 [870] | 360 [793] |
| 25 [0.984] | 445 [981] | 425 [936] | 380 [837] |
| 40 [1.574] | 500 [1102] | 470 [1036] | 415 [914] |
Downloads
CE 1100 Magnetic Lifter Downloads:
Magswitch Downloads: