Magswitch MLAY 600x2 Lifting Magnet - 8100360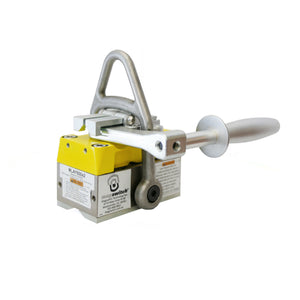 Built for heavy-duty lifting, our magnet technology is powerful without the need for a power source. Safely lock in the on and off position with a 3:1 Safe Working Load of 341 pounds. The pivoting lift hook offers the stability to lift from horizontal to vertical.
FEATURES & BENEFITS
Magnetic field turns completely on and off mechanically.
Magnet stays clean.
Does not use an electrical power source.
Lock On/Off handle.
Superior hold force on thin steel (50 mm shallow field).
Compact, lightweight and easy actuation.
Lifts large flat sheets, beams, and pipes.
Performs well on air gaps such as rust and dirt.
Customizable pole shoes to fit almost any application.
SPECIFICATIONS
Max Breakaway: 1024 lbs (464.4 kg) on 2'' steel
3:1 Safe Working Load: 341 lbs (154.6 kg)
2:1 Shear Working Load: 119 lbs (54 kg)
Full Saturation Thickness: 0.5 in (12.7 mm)
Minimum Thickness for De-Stack: 0.5 in (12.7 mm)
Product Weight: 11.5 lbs (5.2 kg)
Mounting Thread: M6x1.0
Dimensions: 8.7 x 6.5 x 6.7 in (221 x 165.1 x 170.1 mm)
Magnetic Pole Footprint: 119 mm x 71.12 mm
Downloads
MLAY 600X2 Lifting Magnet Downloads:
Magswitch Downloads: