Magswitch M10AY ASC - 8140543 (Legacy Tool)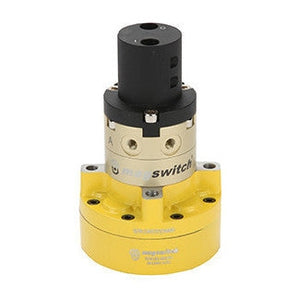 Legacy Tool - Please contact Magswitch for recommended alternatives.
Magswitch M10AY ASC operates on shallow field technology to enable de-stacking of thin metal sheets and stamped parts that have a flat-picking surface large enough for the entire unit. This tool is only for use on flat areas. Contact our engineers to custom design the tool for your application at applications@magswitch.com

Features

Advanced field pattern increases shear performance

Replaces suction cups
Saves energy
Fail-safe operation
Specs
Max Breakaway*
53 lbs/24.1 kg
Working Load 4:1*
13.25 lbs/6.0 kg
Full Saturation Thickness
18 ga/1.2mm
Max Shear 2:1*
2.6 lbs/1.2 kg
Minimum Thickness for De-Stack
20 ga/1mm
Min Actuation Pressure
40 psi/2.8×105

 

pa
Max Actuation Pressure
100 psi/6.9×105

 

pa
Off Target Actuation Pressure
46 PSI/3.2×105

 

pa
Net Weight
1.0 lbs/0.45 kg
Air Port Thread
M5x0.8
Mounting Thread
M6x1.0
Overall Height
105.00 mm
Magnetic Pole Footprint
Ø56.5 mm
* Max Breakaway determined in laboratory environment on 2" thick SAE1018 Steel with surface roughness 63 micro inches. Many factors contribute to the actual breakaway force in each application. Always test the magswitch in each application before deployment.  Refer to the magswitch information booklet for more information.